O Sensei Giclee print (Morihei Ueshiba engaged in Misogi)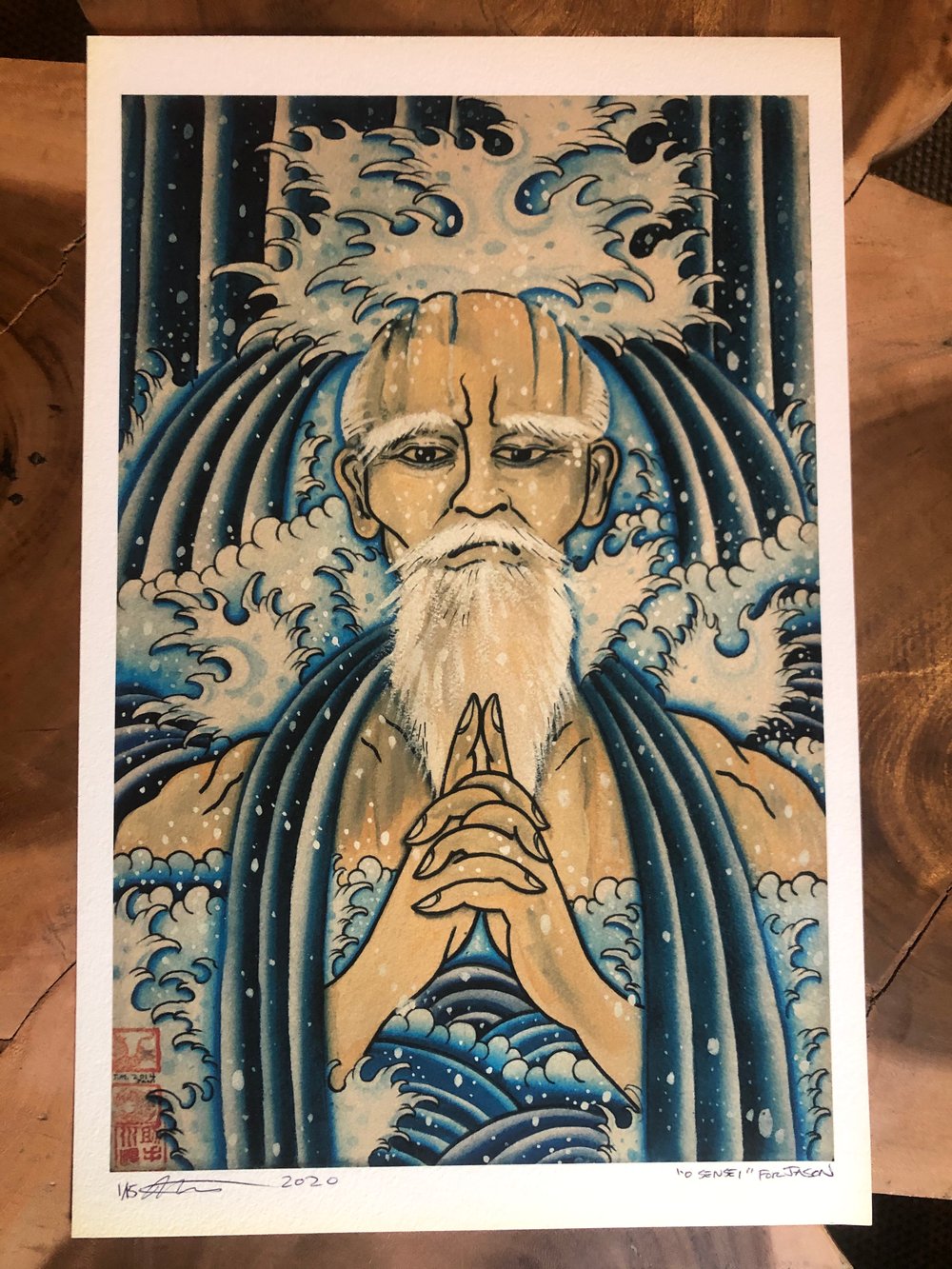 O Sensei Giclee print (Morihei Ueshiba engaged in Misogi)
'Morihei Ueshiba engaged in Misogi.' (O-Sensei, founder of Aikido) This is a high quality archival ink Giclee print taken from the original watercolor painting by Josh May. Print is 11' x 17" on 300lb cold pressed watercolor paper. Print comes displayed in archival plastic bag with backing board.
One of a limited edition of 15-signed and numbered.
About Ueshiba, Aikido and Misogi:
Morihei Ueshiba (植芝 盛平 Ueshiba Morihei, December 14, 1883 – April 26, 1969) was a martial artist and founder of the Japanese martial art of aikido. He is often referred to as "the founder" Kaiso (開祖) or Ōsensei (大先生/翁先生), "Great Teacher".
During his lifetime, Ueshiba had three spiritual experiences that impacted greatly on his understanding of the martial arts. The first occurred in 1925, after Ueshiba had defeated a naval officer's bokken (wooden katana) attacks unarmed and without hurting the officer. Ueshiba then walked to his garden, where he had the following realisation:
I felt the universe suddenly quake, and that a golden spirit sprang up from the ground, veiled my body, and changed my body into a golden one. At the same time my body became light. I was able to understand the whispering of the birds, and was clearly aware of the mind of God, the creator of the universe. At that moment I was enlightened: the source of budō [the martial way] is God's love – the spirit of loving protection for all beings ...
Budō is not the felling of an opponent by force; nor is it a tool to lead the world to destruction with arms. True Budō is to accept the spirit of the universe, keep the peace of the world, correctly produce, protect and cultivate all beings in nature.
His second experience occurred in 1940 when engaged in the ritual purification process of misogi.
Around 2am, I suddenly forgot all the martial techniques I had ever learned. The techniques of my teachers appeared completely new. Now they were vehicles for the cultivation of life, knowledge, and virtue, not devices to throw people with.
His third experience was in 1942 during the worst fighting of World War II, when Ueshiba had a vision of the "Great Spirit of Peace".
The Way of the Warrior has been misunderstood. It is not a means to kill and destroy others. Those who seek to compete and better one another are making a terrible mistake. To smash, injure, or destroy is the worst thing a human being can do. The real Way of a Warrior is to prevent such slaughter – it is the Art of Peace, the power of love.
MISOGI:
Misogi (禊) is a Japanese Shinto practice of ritual purification by washing the entire body.
In Kyoto, people douse themselves under Kiyomizu Temple's Otowa no taki (Sound-of-Wings) waterfall, although the majority of visitors drink from the waters rather than plunging into them. Every year, many groups take pilgrimages to sacred waterfalls, lakes and rivers, either alone or in small groups, to perform misogi. Mount Ontake, the Kii mountain range and Mount Yoshino are but a few examples of ancient and well known areas for Misogi in Japan. In the United States misogi is performed at the Tsubaki Grand Shrine of America at the Konryu Myojin no Taki waterfall each morning.
Misogi is also used in some forms of martial arts, especially aikido, to prepare the mind for training and to learn how to develop one's Dantian, or centre. The founder of aikido, Morihei Ueshiba, regularly used this form of meditation to complement his training and search for perfection. The Sen Shin tei Misogi Well at Ki Society Headquarters in Japan is a well-known place for people performing misogi with cold water before sunrise.